Another local delicacy is "scrapple" of which I am very fond. It has an undeservedly sketchy reputation. Many years ago Conrad Heiney described it memorably (if not accurately) as what you get when you throw a grenade into a barnyard.
For the record then: scrapple is primarily corn meal or other flour that has been boiled in meat broth. The meat broth may contain small bits of meat. The boiled mush is put into a loaf pan and left to firm up. None of this is very different from polenta, a similar Italian dish that enjoys a better reputation.
The loaf is then sliced, and the slices are fried until they are brown and crisp. This too is often done with polenta.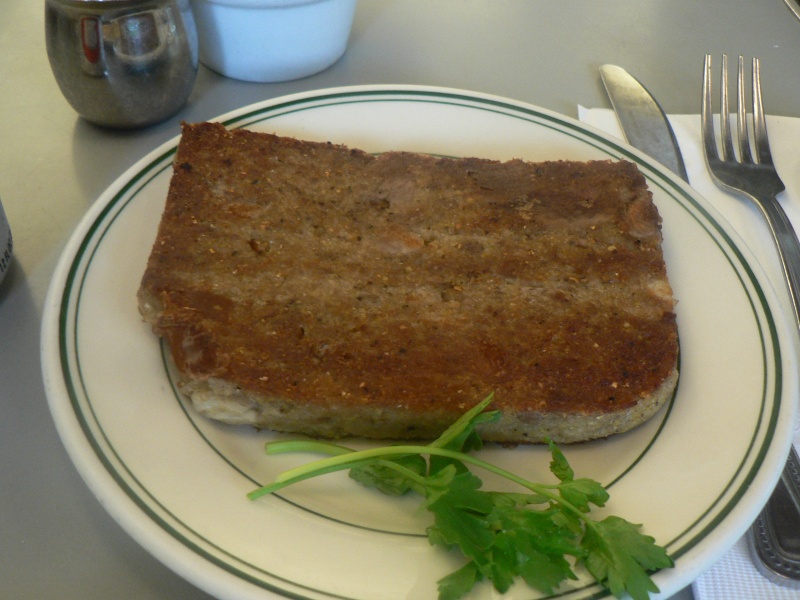 The batteries have a rated capacity of 235 mAh at a voltage of 2–3V. This works out to over 400 calories. If such a battery were to release its stored energy all at once in an enclosed space, I see no reason why it could not start a fire. If three were kept together, a sudden failure of one battery could trigger a similar failure of the others, with potentially serious consequences.
To my amazement, I find that I am actually considering that I buy a six-pack of batteries for $12.98 instead of two four-packs for $11.96.
It happens that we need exactly five. The extras will sit around uselessly and must be disposed of sooner or later. Lithium batteries are potentially dangerous. They are hazardous waste and cannot simply be thrown in the trash. If I buy a 6-pack, I will have only one-third as much hazardous waste to deal with; perhaps that is worth paying an extra dollar?
In !!n!! dimensions, in general, there are only three regular polyhedra. (For !!n=2,3,4!! there are more, but these are the only exceptions.) One of these is the !!n!!-simplex, which is the !!n!!-dimensional analogue of the triangle and the tetrahedron. It's natural to denote this as !!S_n!!.
And, happily, the symmetry group of !!S_n!! is !!S_n!!.
Come to think of it, nobody ever uses "horizontal" to mean "pertaining to the horizon" and I think hardly anyone would understand it if used that way. But it's a bit different case since "horizontal" actually means something that resembles the horizon, which stands as the prototype of a horizontal object.
Is it common to use the word "vertical" to mean "pertaining to vertices"? Or is that just confusing?
I think that's the sense in which it's used in vertical angles, but I remember I did find that confusing.