Every once in a while I go to a restaurant that is excellent, not in any particular way, but only overall. The food isn't excellent, but it is very good and served hot. The prices aren't unusually low, but they are reasonable. The service isn't flashy, but it is prompt and efficient. The interior space isn't beautiful or magnificent but it is pleasant and attractive.
We have a phrase in English, "to damn with faint praise", and that might sound like what I'm doing here. But I'm trying to do the opposite of that. To do everything adequately is hard. To do everything a little better than adequately is damn near impossible. It requires a global attention to process control, and a flawlessness of execution, that is extremely difficult to achieve. To be consistently above average is itself a domain of excellence. But I don't know any handy vocabulary for it, so it seems difficult to talk about.
And I don't think our culture gives this kind of excellence as much credit as it deserves. I'm not trying to rag on the Olympics, but the Olympics is the opposite of this: people train their whole lives, sacrifice everything, to produce a single perfect ten-second performance. There is no Olympic medal for being better-than-average in every way.
(Possible counterpoint: Professional baseball does reward consistency and overall above-averageness.)
Wouldn't it have been great if there had been a Saturday morning cartoon about Andy Warhol solving mysteries? And then there might have been Andy Warhol action figures.
Alternatively, what if Buckeroo Banzai were removed from his movie, and replaced with Warhol? Big improvement, I think. Except the title would make even less sense.
[Unisys is still in business](https://www.inquirer.com/news/unisys- earnings-third-quarter-government-contractor-20191030.html). But why?
Rod Stewart recorded a cover of "Moon River".
I would kinda like to hear a death metal version of Nick Drake's "Pink Moon".
Suppose you had an English-Spanish dictionary (computer-readable) and an English-Russian dictionary. Could you compose them algorithmically to generate a Spanish-Russian dictionary? And if you could, would it be any good? What techniques might you use to make it better?
You can't combine git-log's -3 flag with -p to get -3p. You have to speciy them separately.

rsync --inplace doesn't always mix well with -a. Suppose you're rsyncing a file with read-only permissions. The first time, this works. But if the file content changes, the second rsync will fail, because it will try to open the target file for in-place updating, and the permissions prohibit that.
A while back I assigned a compose-key sequence to the Hungarian long-O character 'ő', because every so often I need to type "Erdős" and I don't want to have to stop and copy it from somewhere. Or, God forbid, misspell it. (Note that ő is not the same as ö, which already had a key sequence. Hungarian has ö also, and it is a different letter.)
I had never used the ő for anything other than Erdős — until today, when I sent a co-worker a message in which I mentioned the Hungarian Pengő repeatedly. Yaaay!
I wonder what the Star Trek Mirror Universe version of me is like? Presumably he wears a goatee.
Venezuelan Spanish has a term, pitiyanqui, which is entirely analogous to "weeaboo".

I spelled "Kreutzfeldt-Jakob" perfectly, go me! Except no, it starts with a C and not with a K. FAIL.

Pasta alla Puttanesca doesn't seem to be known before around 1961, at least not under that name.
The Andromeda galaxy is much larger than the Milky Way. The Andromeda has a diameter of 220 million light years, the milky Way only 105.7.

In the 2019 U.S. federal budget, around 1.4 trillion dollars of revenue is expected to come from individual income taxes and another 1.1 trillion fromm social security receipts. Only around 0.22 trillion is from corporate income taxes.
The earliest known use of the verb "short-change" is from 1903.
Wikipedia's picture of Frank Herbert is beardless. My mind was blown.
A while back I ruefully observed that "-potamus" is not a productive morpheme in English, you can't just append it to any other word. For example, "burritopotamus" doesn't mean an especially large and overflowing burrito, it's just puzzling.
And I've mentioned a couple of times [(1)] [(2)] that "franken-" can be used that way.
And now I'm thinking about "frankenpotamus", and it's terrifying.
But if there can be "sharknado"…
I was startled this morning by this fragment of a CNN article about Turkey:
The US has been talking about
getting tough with Turkey, but they
have not actually applied another key
sanction other countries have used in the past -- cutting off arms
Yow!
---
(The next line was just "sales.".)
IF CHARLES DICKENS WAS SUCH A GREAT WRITER, HOW COME HE DIDN"T WRITE ANY UNIT TESTS?
MAKES YOU THINK DOESN"T IT?!?!?!
David Davis, associate justice of the Supreme Court from 1862–1877, had been Abraham Lincoln's campaign manager in the 1860 election.

He also had a horrendous neckbeard.

Although Chase Manhattan Bank (originally Chase National Bank) was named for former Chief Justice and Treasury Secretary Salmon P. Chase, he actually had nothing to do with the bank.

The first U.S. federal paper currency was issued while Chase was Secretary of the Treasury, and to advance his own political career he arranged to have his own likeness appear on it.
Who was the best-looking justice of the U.S. Supreme Court?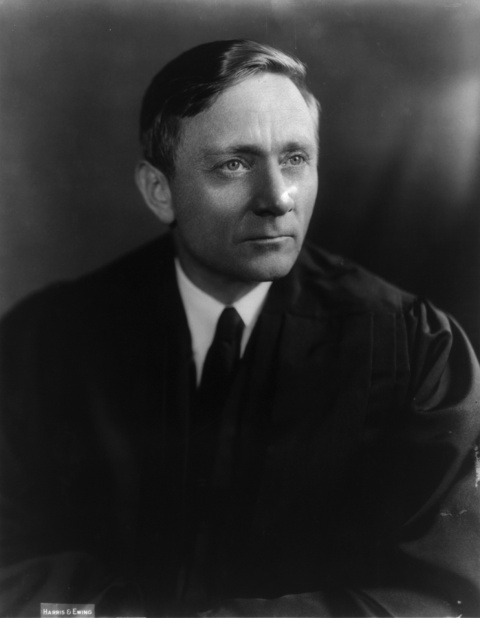 (Pictured: William O. Douglas. )
The House of Commons can only operate lawfully when the royal mace is present at the table.

In 2008, AOL bought Bebo for $850 million.
Today I'm looking through old rec.arts.sf.written articles, and I found this one:
In article <NdXG7.5611$RI2.2722800@news2>, Michael Kube-McDowell wrote:

The crossover I wanted to see was the Asimov-Norman ROBOTS OF GOR,

The one I wanted to see was TARL CABOT OF OZ.
I was not thinking about this clearly. What I should have asked for was The Wonderful Wizard of Gor.
(Also, where the hell is my Sonar Taxlaw fanfic?)
I noticed that my recent post about dividing cake had appeared on lobste.rs, a Reddit-like site that I usually find considerably less obnoxious than Reddit itself. Sometimes the folks there say interesting things, so I went to see, and this time I got what I deserved:
The whole premise of the question is wrong, the "problem" of cutting the square cake into 9 pieces each with equal cake and frosting (which is on the sides and top) has a trivial solution.

Grandma could cut her cake diagonally, making four equal triangles. Then each triangle is cut into three subtriangles […]
Gosh, I feel so stupid for missing this completely trivial solution.
Almost as stupid as if I had forgotten that 4 × 3 ≠ 9.
The OED's citations for the "franken-" prefix all relate to genetic engineering, mainly involving "frankenfood", with a couple variations such as "frankenscience", "frankenplants", "frankenfruits".
I mentioned recently that I had seen "frankenblog", to describe an ill-advised mashuip of Tumblr and Wordpress. Today I learned of "franken-FM", which, if I haven't misunderstood, is a radio station with a license to transmit low-power television signals on VHF channel 6, which actually transmits a null video signal, because the audio portion of the signal can be picked up on an FM receiver tuned to 87.7 MHz.
Searching for other combinations of "franken-" is hard because the results are full of chaff about Al Franken. But I made a not-very-inspired guess about "frankenburger" and found a great many news articles about test-tube meat from 2013, and a second guess turned up this article about a "frankenshower".
The famous case here is Katko v. Briney. The Brineys owned an old vacant farmhouse which was repeatedly vandalized. They set up a booby trap which, if tripped, would fire a shotgun at the trespasser's legs. Katko, trespassing, tripped the shotgun and had to be hospitalized, and sued the Brineys. The Iowa Supreme Court found that the Brineys were civilly liable for Katko's injuries, plus punitive damages. I don't know if the Brineys were charged with battery or reckless endangerment or anything like that. (Katko pled guilty to a petty larceny charge.)
I have forgotten the details, but I remember another case involving prison inmate X who made a credible threat that he was going to kill inmate Y at a certain time in a certain place. Y then pre-emptively killed X. (Knowing this kind of case, there was probably also a side issue that when Y reported the the threat to the prison authorities, they blew him off.) My recollection is that the court told Y he could not claim self-defense for a pre-emptive attack, regadless of how credible the threat was. (X had made similar threats to other inmates in the past, and had acted on them.)
But the situation I describe is different from both of these. In my hypothetical situation, X is actually trying to kill you, not at some future time, but at the moment you actually employ deadly force to stop them.
Suppose you suspect that person X is going to attempt to kill you when you next meet with them. So you prepare a gun, which, if used, will backfire and kill the person using it. Then you leave it in the place you expect to meet X. During your meeting, X seizes the gun and attempts to kill you with it. It backfires and kills X instead.
Have you committed murder?
And if so, are you entitled to claim self-defense?
I thought it meant to swarm around in a crowd, like chickens in a farmyard. (From pullulus, a chick, akin to English "pullet".) But it doesn't. It means to teem or swarm abundantly, from pullulāre, to sprout or send forth new growth.
(Which is also akin to pullulus and "pullet".)
I would like a word something like "mill" in the sense of
We look down upon the throng milling around the Chapel of the Sepulcher
but with a connotation of a crowd of chickens, or perhaps a swam of insects, instead of the systematic circular motion of a turning millstone.
Surely someone has invented a language for querying relational databases that is less of a shitpile than SQL.
St. Petersburg was not founded until 1703. I had assumed it was ancient, like Moscow, but it's newer than Philadelphia.

I mentioned the following story I had once read:

A lawyer for the plaintiff in a libel case was explaining that the defendant had libeled his clients by making their names the answers in a crossword puzzle. So for example one of the clues was "bibulous bishop", and the answer had space for four letters; there were only three bishops in England with four-letter names, and the only one that could be made to work with the crossing clues was his client's name.
But the defendant was claiming that it wasn't he that had committed libel; if anyone had, it was the people who wrote the name into the answer grid.

On looking into this futher, I found that it appears to have been written by A.P. Herbert and published in Misleading Cases in the Common Law.

I looked to see if the Internet Archive had a scan of Misleading Cases, but it does not. It did, however, have a scan of Herbert's book Sundials Old and New: or, Fun with the Sun. I glanced through this and soon happened across this bit:

In 1942 I was sick for a week or two, and, convalescing, I sat up in bed and renamed the stars. I still maintain that this is a good notion.

Following up on this, I found that Herbert had previously published a very short book on that topic, titled A Better Sky. This article has a summary.

I had not heard of A.P. Herbert before, but he sounds wonderful, someone I should know.

[Wikipedia has a page on List of all lists which do not contain themselves. (Since 2004 it has been an automatic redirect to Russell's Paradox. But check out the edit history.)
Unexpected sentences from the weekend:
As one of his first acts in office, [Clint] Eastwood tossed out the planning board that had vetoed an ice cream prohibition repeal.
Source: "30 Years Ago, Clint Eastwood Was Elected Mayor of Carmel, California"