Because talking to yourself is a sign of impending mental collapse.
Today I got to thinking about how amusing it would be to have a shrunken head (presumably fake) of the current president of the United States. Then I thought, why not a whole set, say back through Reagan?
Shrunken heads of Ford and Carter seemed less amusing, so I was willing to stop at Reagan, until I thought about owning a shrunken head of Richard Nixon, which would be too good to omit. But then a Lyndon Johnson shrunken head would be good to have also, I could look at it and think about the Vietnam War and ballot stuffing. And Kennedy, famously young and handsome, would make an excellent shrunken head.
So I decided that the best thing would be to have a complete set of the shrunken heads of all the presidents, starting with Washington, and the question that always comes up in such situations is: what do you do about Grover Cleveland? In this case the answer seemed clear: you include him twice.
Then I didn't get any work done for a quarter of an hour because I was laughing.
That conference attendee who wrote on their evaluation "thinks he's funnier than he is" really had my personality figured out.
Today on the way to the trolley I thought of how if MAD Magazine had been published in the 17th Century it would have had a parody (illustrated by Angelo Torres) of Don Quixote or maybe Hamlet.
Other than that I suppose it would have been pretty much the same. The Fold-In might have been a woodcut.
Also, the Dave Berg feature would have been something like "The Lighter Side of… Sumptuary Laws".
Philadelphia is universally considered to be an East Coast city.
However, it is not on the coast. It is not even near the coast.
Pennsylvania's sole water border is a short stretch of the shoreline of Lake Erie, 400 miles from here. It does not touch the Atlantic Ocean. To get to the coast, you have to travel from one side of New Jersey to the other, a distance of at least sixty miles.
I dreamt I was in a restaurant. On the menu, there was a little note attached to the second-from-last item, explaining that what would be served was only a picture of the actual dish. (The listed price was $24, roughly in line with the other dishes.)
In the dream I was completely perplexed. Who would order such a thing? But when I woke up it was easy to think of an answer. Suppose that it's traditional to welcome an honored guest by serving a certain rare and expensive dish, let's say baked Alaska. This demonstrates to the guest that you take them seriously, and also demonstrates to them (and to your associates) that you're wealthy and powerful enough to command the traditional dish.
Now suppose that baked Alaska is out of season or otherwise unavailable. No problem. You symbolically serve them the traditiona l dish, and if it costs just as much, or more, then so much the better, because the dessert itself was never the point.
The content of G. Spencer-Brown's Laws of Form (1969) was almost entirely anticipated, almost exactly the same, by Charles Sanders Peirce's existential graphs in the 1880s.
Is there anything that C.S. Peirce didn't invent before everyone else?
Non-monic arrows are those that destroy information that was present in the domain.
Non-epic arrows are those that introduce worthless non-information into the codomain.
For around 18 months in 1673–4, the city of New York was recaptured by the Dutch and named New Orange.
This got me thinking about a world in which New Amsterdam remained under Dutch control up to the present. (Perhaps it would include only some subset of Manhattan?) I need to think about this more.
Craig Burley has answered the question of why 3 isn't bigger: because it lacks fortitude!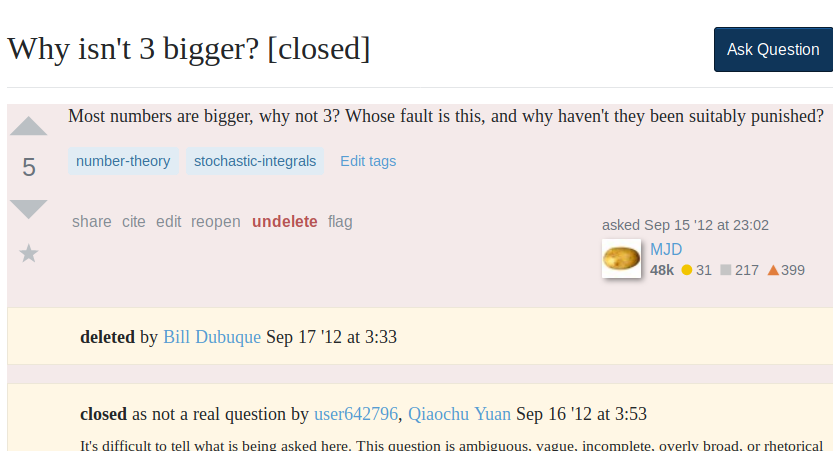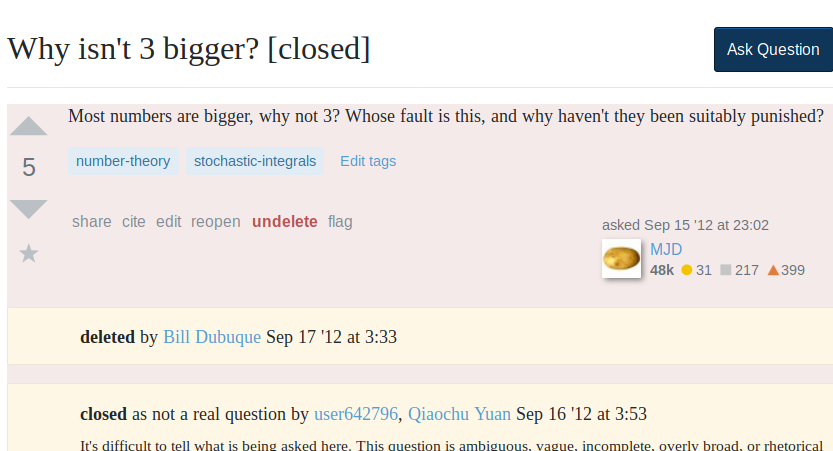 Olivia Newton-John is the granddaughter of Max Born, winner of the 1954 Nobel Prize for Physics.
I've assumed for a long time that fares on rapit transit systems like the subway ot the BART should obey the triangle inequality: going from A to C directly shouldn't cost more than going from A to B, leaving the system, and then coming back in to go from B to C.
But now I wonder why I ever thought this. A short, direct route is a valuable thing, and a passenger might be willing to pay a premium for it.
Or to make the difference even clearer, suppose, that the route from A to C via B uses an old, grungy, low-speed service, and the direct route is fast and clean. You might be willing to pay more for the direct route.
Gitlab is having a one-day mini-conference in Brooklyn.
To send one person costs $499.
To send two people costs $998.
To send three people costs $1497.
To send 4 people costs $996.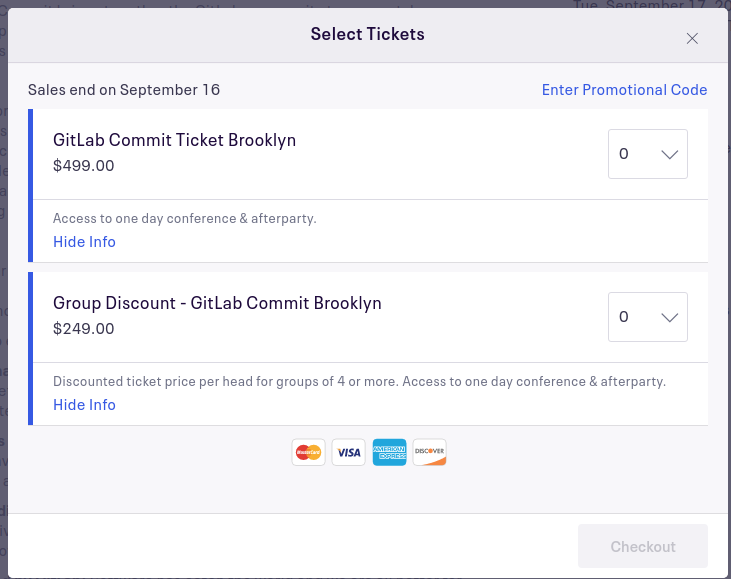 You can send six people for the same cost as sending three, five for less than that.
Someone is not thinking about what they are doing.
Stuff like this really bugs me. It's not hard to get right. And it should be familiar to everyone how to get it right, because it's the way federal income tax works.
… to be late!
Today I spotted someone using the word "frankenblog" to mean an unfortunate mashup of the Tumblr and Wordpress software.
It's awesome that the prefix "Franken-" has become a productive morpheme.
One of my all-time favorite questions from the audience during a conference talk: I was discussing Y2K problems in date formats, I think in email message headers, and this attendee asked if my proposed practice, of using a 4-digit year, wasn't subject to Y10K problems instead.
There are two answers to that. One is that, in the context of a message header, there is nothing to stop you from going on to 5-digit years when the times comes. The problems intrude only if in the year 10000 you stupidly decide to roll over, odometer-style, to 0000.
But the larger answer is that it does not make sense to plan network protocols on an 8,000-year timescale. 8,000 years ago, we had invented fire and agriculture, but not writing. Metallurgy and metal tools were still works in progress.
Trying to predict the information technology needs of the year 10,000 is at least as silly as asking someone from the neolithic era whether message headers should use a 2- or 4-digit date format, and less likely to produce a useful answer.
Katara and I were on the sofa, and I mused aloud "It's funny how there's no adjective like "three-itude" that expresses how much threeness you have, or how much you are like the number three. You can't say 'I wish I had as much threeitude as that other person.'"
Unsuspecting, she walked right into my trap:
"There isn't anything like that for any number, is there?"
"Forti-tude."
If your band's cover of "Eleanor Rigby" is more than three minutes, you're doing something wrong.
Tags: itsTrue
The surname "Parker" was originally an occupational name. It dates back to the valet parking services instituted in 1534 at Hampton Court by Henry VIII.
Construed as relations, the logical ∧ operator is transitive, but the logical ∨ is not.
Hittites did not live in Mesopotamia. They lived in Anatolia, what is now Turkey.
Who else is credited with inventing one or more letters of the alphabet? Russian 'ё" was apparently proposed by Ekaterina Romanova-Dashkova. I think I remember a story about Peter the Great inventing a different letter. (Looked it up, it is "Я", and we still have the notes he made while he was deciding what it should look like.) And of course Sejong the Great is credited with the invention of the entire Korean alphabet and scholarly consensus is that he not only planned and oversaw the project but also made technical contributions.
Are there any others? Anything like that in the Latin alphabet? Do we know who first distinguished between "u" and "v" or "i" and "j"? The Scandinavian letter "Å" occurred in the 20th century but Wikipedia doesn't attribute it to any particular person.
Oh, I know, Sequoyah invented the entire Cherokee writing system. OK, let's restrict the question to people who contributed a few letters to existing scripts. (Sorry, Sejong!)
Today I learned about Princess Yekaterina Vorontsova-Dashkova, the Russian Imperial Academy of Arts and Sciences and the proposer of the Russian letter 'ё".
What's the right way to spell the name of Andre Scedrov? I suppose at some time in the past it was spelled "Andrej Ščedrov" but I've never seen anything actually written by Scedrov that spelled it that way. For example, here's his professional web page and here's a recent preprint paper of his which contains 21 instances of his name all spelled the same way.
A little more searching does find much older materials with the expected spelling. For example, his book on Forcing and Classifying Topoi from 1984, the dark ages of mathematical typesetting, before Donald Knuth came to lead us into the land of milk and honey. The book is typewritten, with accents and math symbols written in by hand.
When I was at Penn, Scedrov's name was invariably pronounced "shedrov". I was puzzled by this at the time because "Andre" looked French and then "Sced-" looked like it is going to be Italian, and maybe I thought that "Andre" was just Italian "Andrea" with the 'a' left off to prevent annoying confusions, but then I got to the "-ov" and went down for the count. It wasn't until many years later that I understood what was had hit me.
(That "Šč" is the Latin-script version of Cyrillic "Щ" that you meet in names like Khrushchev (Хрущёв).)
I don't know what I would do in a similar situation. Stubbornly insist on the original pronunciation of my name or change the spelling so that other people wouldn't stumble over it? My great-grandfather chose on my behalf around a hundred years ago when he dropped the 'z' from "Dominusz".
Back when Katara was still in utero, I got tired of people asking me what we planned to name her, so I started saying "Bethesda!" And then, as the look of dismay spread over their face, I would add helpfully "After the hospital where her uncle died."
But there are plenty of other medical-themed names that would be much worse. Scrofula, for example. Melanoma (and her little sister, Carcinoma). Fluoxetina.
Okay, but those are just jokes. What about names that people actually use? "Dolores" comes to mind, but that's just my own taste. The people who choose it are well aware that it is Spanish for "sorrows" and they choose it because of that, not in spite of it. "Alexia" means a cerebral disorder causing a loss of the ability to read.
(Perhaps I should mention that Katara is not actually named Katara and is only called that on this blog.)