It's been too long since I did one of these posts. The blame is entirely mine, as the software itself has been holding up its end of the job.
Here I am asking my phone for driving directions to the Wawa store: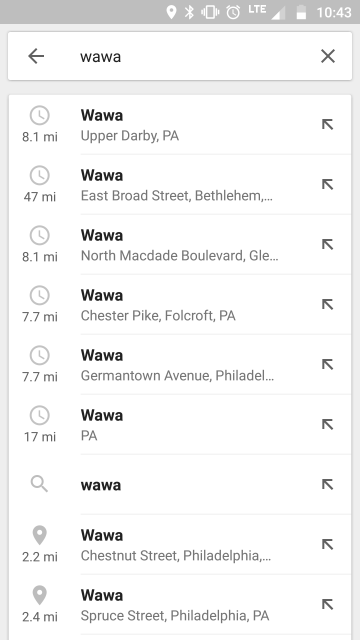 Why is each of its top 5 suggestions more than 7 miles away, when there must be half a dozen stores closer than that? Is there something so marvelous about the Wawa in Upper Darby that I should prefer it?

Why is it suggesting that I might be interested in a Wawa 47 miles away in Bethlehem?

Last time I asked for directions to a Wawa, it was to the one on Oak Lane, 5.9 miles away. Why doesn't it guess that I might be trying to go back to the same place?
(I have no problem with the inclusion of item 6, 17 miles away; that is the town of Wawa, Pennsylvania, after which the store takes its name.)